Having had one paper accepted at the 14th International Society for Music Information Retrieval Conference (ISMIR 2013), I travelled to Brazil for two weeks where I was in Curitiba first for a week where the conference was being held and then in Rio for the rest of the time on a holiday. ISMIR is the leading conference when it comes to research in Music Information Retrieval and other related topics in Music Technology. The paper I presented there was titled, "A Distributed Model for Multiple Viewpoint Melodic Prediction". Its abstract is the following:
"The analysis of sequences is important for extracting information from music owing to its fundamentally temporal nature. In this paper, we present a distributed model based on the Restricted Boltzmann Machine (RBM) for melodic sequences. The model is similar to a previous successful neural network model for natural language. It is first trained to predict the next pitch in a given pitch sequence, and then extended to also make use of information in sequences of note-durations in monophonic melodies on the same task. In doing so, we also propose an efficient way of representing this additional information that takes advantage of the RBM's structure. In our evaluation, this RBM-based prediction model performs slightly better than previously evaluated n-gram models in most cases. Results on a corpus of chorale and folk melodies showed that it is able to make use of information present in longer contexts more effectively than n-gram models, while scaling linearly in the number of free parameters required."
The paper was chosen for an oral presentation, and it also won a Best Student Paper Award at the conference. On the final day of the conference, I also organised a late-breaking session on "MIR in Music Education" which is a topic I am very interested in, and also participated in several other sessions organised by others.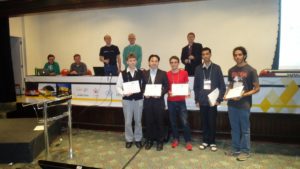 I also met a very interesting guy named Anderson during my stay at the Knock Knock hostel in Curitiba, who is also a PhD student doing his research on Armadillos!
Then I travelled to Rio de Janeiro for a week where I lived in a hostel located just a few minutes away from Copacabana beach. I spent my time there hanging out at the many beaches, and visiting iconic landmarks such as Cristo Redentor and Sugarloaf mountain among other places recommended to me by the locals I met in the hostel, and also taking a bus tour with some other tourists.
I was also joined there by my supervisor Tillman, and my friend and colleage Reinier who accompanied me during some site-seeing.
In all this was a fabulous experience and I thoroughly enjoyed my time in Brazil! I'm sharing a copy of my paper and presentation slides below.
ISMIR 2013 Paper presentation-ismir-2013